HVAC Unit Cleaning
Back To Our Services
You know what it does, but do you know what HVAC means? Simply put, its initials stand for heating, ventilation and air conditioning. The unit is responsible for keeping the air quality inside your home fresh and clean and this is why regular HVAC unit cleaning is vital.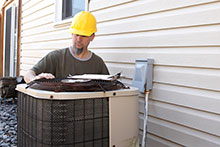 The Source Of The Problem
Apart from helping your home remain at a comfortable temperature, your HVAC re-circulates the air; preventing it from becoming stale or stagnant. It performs these duties outside your home, which can lead to problems. Not only does it draw air in, but also it sucks up pollen, smoke, pet dander, and a number of other air pollutants. These can become lodged inside, and over time, build-up. The result is unwanted pollutants which are blown around your home and inhaled by your family.
How Does This Affect You?
An inefficient HVAC unit will have a negative impact on your energy bills. Largely because any dust or debris clogging the equipment makes it difficult to draw air in, meaning it takes longer to produce the required temperature and causes it to struggle as it pushes through the ducting. All this added activity is going to hit you where it hurts, in the pocket. Plus, the extra strain on the unit will prematurely wear out its components and shorten the equipment's lifespan. It can also affect your health. The pollutants drawn into the system are distributed around the home and these can cause skin irritation, nausea, headaches, and allergic reactions. Therefore, regular HVAC unit cleaning is a must.
Speed And Efficiency
Our team of local professionals uses only the best tools for the job, and we will ensure your unit is contaminate-free. We will do it this in a speedy and efficient manner to suit you. When we're finished, you'll be surprised at your air quality's fresh smell and ambient atmosphere.
Contact Us Now
By contacting Air Duct Cleaning Hermosa Beach, you're making the first move towards fresher, safer air, and make no mistake; your family will thank you thank you for many years to come.